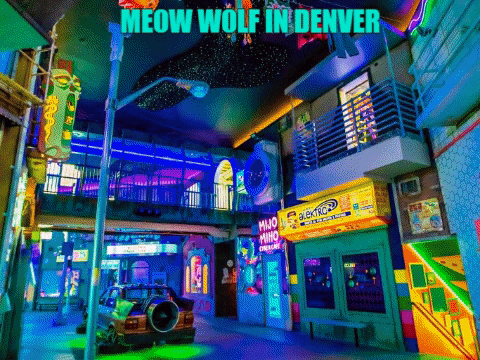 Visitors to the Mile High City can lose themselves in the intergalactic funhouse that is Convergence Station, the third permanent exhibition from art collective-turned-multimillion-dollar arts production company Meow Wolf.
Nestled on an oddly-shaped lot between two arms of freeway overpasses, the new immersive art attraction fills a 90,000-square-foot custom-built facility, with four floors of interactive art installations that promise hours of exploration. (For context: it's larger than both the Whitney Museum of American Art and the Solomon R. Guggenheim Museum in New York.)
Founded by a group of young artists in Santa Fe in 2008, Meow Wolf got $3.5 million in funding from Game of Thrones author and local resident George R.R. Martin to open its first permanent location in 2016. The House of Eternal Return was an immediate sensation, drawing crowds eager to experience—and take photos amid—its immersive environment of what appears at first glance to be an abandoned family home, but is somehow tied to portals to other dimensions.
The project's success presaged the explosion of interest in immersive experiences, which in recent years have multiplied worldwide and become the most popular way for the general public to experience arts and culture.
Meow Wolf launched ambitious plans to expand to other cities around the country, and a second location, Las Vegas's Omega Mart, opened in February of this year. (The pandemic scuttled outposts in Washington, D.C., and Phoenix, but the founders promised Artnet News that other ventures are on the horizon.)
Like its predecessors, Convergence Station is more than an art show. It's a world unto itself—or four of them, to be precise, each representing a parallel universe that, as the lore goes, merged during a mysterious cosmic event back in 1994. There's an frozen planet trapped in a 1,000-year ice age, a trash-filled city, a mysterious network of catacombs, and a six-dimensional being taking the form of a cavern that calls to mind Jim Henson's Fraggle Rock.
The installations are all constructed around Meow Wolf's elaborate, Marvel-style mythology. According to the lore, the Quantum Department of Transportation, or Q-DOT, opened the Convergence Station as a tourist destination for intergalactic travelers. But mysterious weather events called memory storms forced it to shut down. The memories of denizens of all four lands have fragmented and scattered, and the resulting free-floating "mems" have become a valuable form of currency in the Converged Worlds.